An outdoor kitchen is a natural gathering spot in the landscape. After all, everyone ends up in the kitchen indoors, so the odds are great that the same thing will happen when there's a kitchen outside. An outdoor kitchen encourages you to enjoy dining al fresco whenever the weather is good, whether you have guests or not. When it's time to entertain on a larger scale, the outdoor kitchen allows you to be part of the party.
Read on to learn more about what adding an outdoor kitchen entails, whom to hire, the pluses and minuses of different appliances and building materials, added features you might want to consider and the timing of getting from the initial planning stage to the finished project.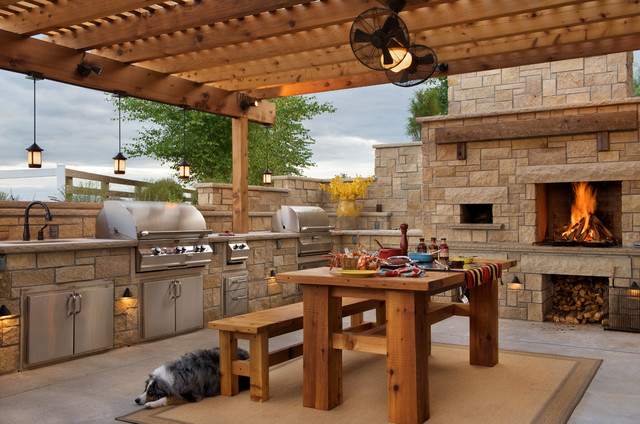 Whom to Hire
There are a lot of pieces to consider for an outdoor kitchen, even if you're doing a small, simple project, so finding the right pros is important. If your kitchen is part of a new landscape plan or the cornerstone of a landscape upgrade, you should be working with a landscape architect or landscape designer.
Businesses that sell outdoor appliances and materials often have a staff designer who can help you decide on the layout and features you need and can provide advice on how to make it happen.
A licensed general contractor who is experienced in outdoor kitchen construction can make sure the installation is done correctly. You will need to hire a licensed plumber and a licensed electrician for any plumbing or electrical work.
Find a landscape designer or landscape contractor near you on Houzz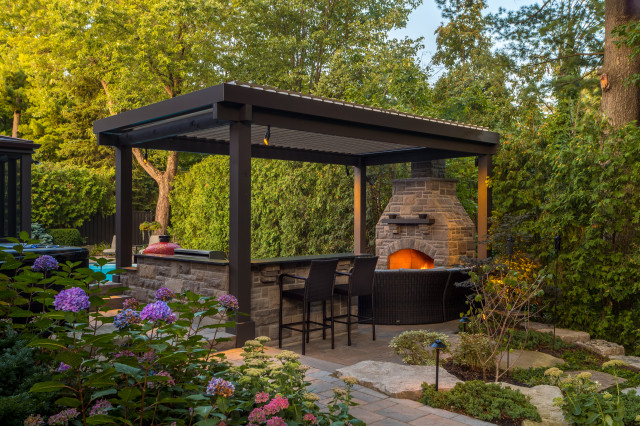 Design Considerations Before Adding an Outdoor Kitchen
Before getting to the actual design, think about exactly where the outdoor kitchen will go in your yard, the ideal size and layout of the space and the overall look and feel you want.
Your climate. One of the first things to consider is your climate. If summers are hot, muggy, rainy or short-lived, the amount of real time you'll spend using the kitchen may be limited. A cold-winter climate will also mean additional maintenance to winterize the space.
Your lifestyle. A second consideration is what type of outdoor kitchen makes sense for your lifestyle. "We encourage homeowners to think about what they are going to use the kitchen for," says Rob Douglass of Texas Custom Patios. "Is it just for them and their family? Is their family large or small? Do they entertain a lot or have big parties with lots of people?"
You may want an outdoor kitchen that comes with all the bells and whistles. Perhaps a simpler design that will make your current space more efficient is right for you. Whichever you choose, the space should be functional and hardworking. Most of all, it should be a space you'll be happy to be in and to show off.