Faced with rising housing prices in the San Francisco Bay Area, which were making it difficult for their adult children to settle nearby, homeowners Tara and Michael Wolf looked at their Oakland, California, backyard and saw an opportunity. Their vision was to add a hardworking accessory dwelling unit (ADU) that could serve as a home now for Nick Wolf, their son, who runs his own photography business. In the future, the space could transition into an aging-in-place cottage for the couple; and their son, if his own family grows, could have the option of moving into the main house.
ADU at a Glance
Who lives here:
 Nick Wolf lives in the ADU; his parents, Tara and Michael Wolf, live in the main house, where they raised their family.
Location:
 Oakland, California
Size:
 657 square feet (61 square meters); one bedroom, one small office (which can also be used as a bedroom), and one bath on a 4,200- square-foot (390-square-meter) lot, which includes the main house, backyard and ADU
Architect: 
Inspired ADUs
Contractor:
McDunn ADUs
Landscape designer:
 Royo StudioThe homeowners turned to Inspired ADUs and McDunn ADUs, seasoned accessory dwelling unit designers and builders, to help make their dream a reality. Working with pros who specialize in this area of construction was important to the homeowners, as the team would know exactly how to design and build the new ADU to comply with Oakland city codes.
The designers at Inspired ADUs worked with the parents and their son during the concept design phase to come up with a space that would suit the whole family. Nick wanted plenty of natural, ambient light — both for his photography and to keep the small space from feeling too confined. Tara and Michael wanted to design the cottage with an aging-in-place plan in mind, with details such as easy access, no steps, a zero-threshold shower and a recessed threshold for the glass doors opening to the patio. On top of those wishes, the designers also included plenty of elements that would make the space feel as open and inviting as possible.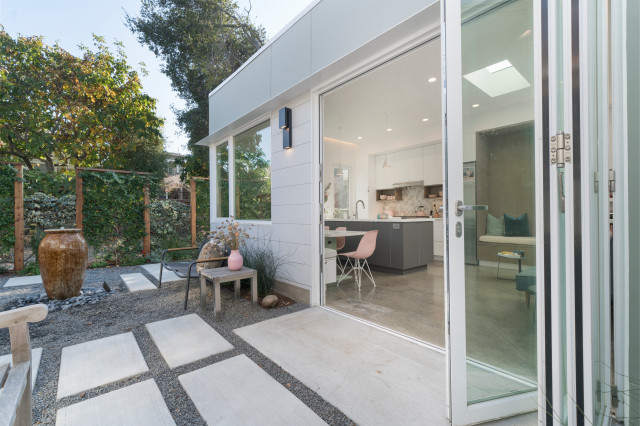 McDunn ADUs
Entryway
You reach the new ADU by walking down the side yard of the main house and through a gated private entrance to the backyard. The ADU's main entrance is through large glass bifold doors, which open to the main living area. The structure is configured in an L shape around a central courtyard garden with a fountain. One wing houses the living space, dining nook and kitchen, while the bedroom, office and bathroom sit on the other side.
McDunn ADUs
Kitchen and Dining Nook
The kitchen feels airy and bright, thanks to the bifold glass doors and large corner windows, which borrow views from the courtyard garden. For the dining nook, the design team had a bench seat with built-in storage custom-made. Nick and Michael made the dining table with a concrete top and powder-coated-steel base.